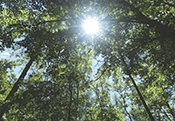 Rob Mackey, Team Member
While humanity focuses its attention on the pandemic and slows or stalls many of its activities, nature has carried on with its annual spring emergence. Unaware of our stresses and fears, the squirrels and rabbits are busy, and the robins are plump with eggs. PA's favorite sign of spring, the groundhogs, are out of their burrows munching away, entirely indifferent to cable news and internet memes. Nature is marching on. Thank Goodness!
For all of its negatives, the pandemic has allowed more opportunities for walks around the neighborhood and extra time to gaze out the window. The slower pace gives us the chance to pause, and sit in awe of our amazing earth. How nice it has been to watch forsythias' gold transition to magnolias' pink and white. The apple trees are about to burst with deep rose-colored blooms (DYK apples, peaches, pears and plums are all members of rose family). Having so much color to enjoy in the bloom of spring, it is easy to forget the cooling shade our trees will give during summer's heat, and the autumn splendor for which we in western PA are so blessed.
Our urban forest is not natural though. Most of the trees we see on a daily basis were planted by humans. Pruning is ongoing, and eventually dead and dying trees are removed. Sadly, in our area we are removing trees faster than we grow them back. According to Tree Pittsburgh, Allegheny County lost 11,044 acres of tree canopy between 2010 and 2015 (for reference, the entire county park system is about 12,000 acres). New development is the primary cause, but owners of existing homes have played a role as well. It is common to replace towering shade trees like oaks and sycamores with ornamentals that will never clear the rooftops. Imagine what your neighborhood would look like without any of its BIG trees. From my window, the picture would not be as pleasing.
Your Mission Committee's Eco-Justice Team is working to address the canopy deficit and provide blooming spring beauty for years to come. We recently planted eight trees on the hillside adjacent to the north parking lot. Both PA natives, the Eastern Red Bud and Northern Red Oak will combine to maximize the carbon trapping, air purifying potential of the space, while complementing each other aesthetically. The Red Buds with striking magenta blooms in spring and bright yellow leaves in fall will grow to about 25 feet in height. The Red Oaks will soar above, up to 80 feet, and show russet-red leaves every autumn.
You will likely notice the deer protection before you see the trees. Unprotected, young trees are vulnerable to deer browsing and rubbing. After a few years, we will reuse the fence and posts on a future planting.
Are you interested in planting trees around BHCC, at home or in the community? There are many ways to get involved. The Eco-Justice Team is thinking about fall planting season and would love to hear from you. In the meantime, enjoy the new trees at BHCC and all the trees in our community!